Staff, 2023-03-10 17:01:15,
Townsmen VR Review (PSVR2) – Lead a colony of teeny tiny folk to growth and glory in this VR sim title. Find out if this VR version of Townsmen is victorious in PlayStation Universe's Townsmen VR PSVR2 review.
Townsmen VR Review (PSVR2) – A Model Sim Endears With Tactile Charm
---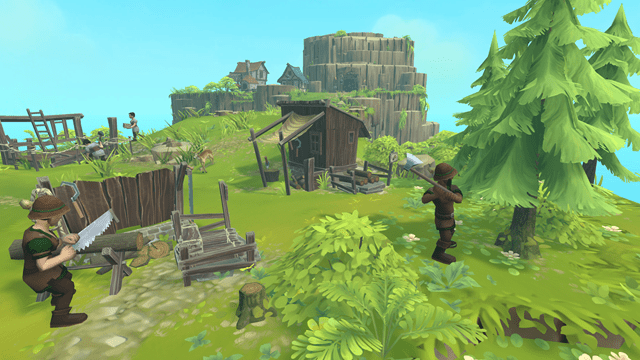 As I discovered with Cities VR, city-building types can gain something new and exciting in the transition to virtual reality. For a game like Townsmen, there's an extra layer because you're less city planner and more of an interfering God.
Tasked with leading a small community from ruin at sea to a thriving colony, you lurk over your people with heavy gauntlets on hands that hover menacingly above their tiny heads. The objective is to help and nurture these groups, but Townsmen VR also allows for a bit of Godly malevolence. What's a sim without it?
To begin with, you're coaxed through a few basic interactions and allowed to get a grip on the control system. The controls are a strange thing to get on with. The exquisite nuances of VR control on PS VR2 often seem to come with such problems, but despite fundamentally holding the same buttons in your hands as a DualSense has.
Yet VR adds contexts that discombobulate with the additional freedoms that brings.
You have to drag yourself forward by physically performing a crawling motion with your arms, and it's part of a rather disorientating toolset of player movement that takes some getting used to. Even the simple act of zooming in feels alien…
,
To read the original article from www.psu.com, Click here
Private Internet Access gives you unparalleled access to thousands of next-gen servers in over 83 countries and each US state. Your VPN experience will always be fast, smooth, and reliable.