Staff, 2022-10-29 15:15:00,
The United Kingdom's James Baldwin has taken the gold medal in the esports discipline at the FIA Motorsport Games, to give the country its first ever category gold.
Baldwin had been among the pre-event favorites, coming off the back of a very strong season in a variety of championships using the same Assetto Corsa Competizione platform in use at the Motorsport Games.
After successfully defending his solo title in the GT World Challenge Europe sprint bracket, he recently claimed the Intercontinental GT Challenge endurance title with team-mates George Boothby and Eamonn Murphy. Not only that, Baldwin claimed the Alpine Esports series title and was drafted into the Garage 59 squad for the 24 Hours of Spa and took the sim race win in the Fanatec Esports GT Pro Series at the event.
However the British driver wasn't top of the timesheets going into the Quarter Finals. That honor went to Brazil's Igor de Oliveira Rodrigues, a finalist in Lamborghini's The Real Race North/Latin America region, ahead of Chris Harteveld of the Netherlands who won the silver category in GT World Challenge Americas this year.
The trio was kept apart until the semi-finals by the event draw, and each came through their quarter-finals without much of a hitch. Rodrigues would cruise through from lights to flag, while Harteveld had to settle for second after being passed by Czechia's Martin Kadlecik, in unbroadcast events.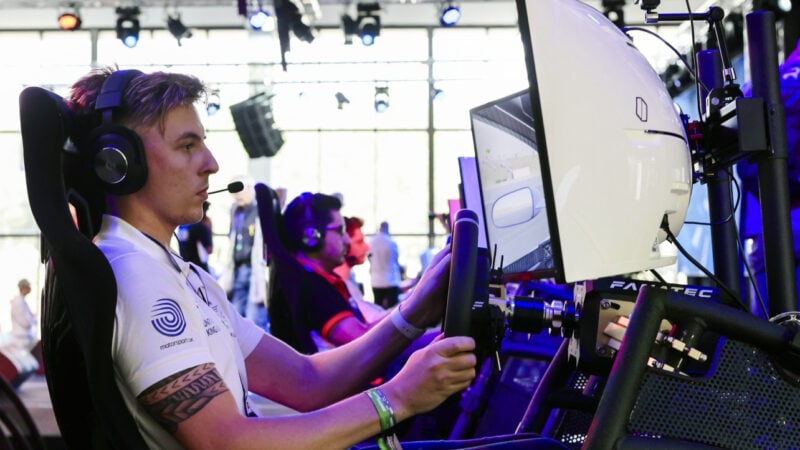 Baldwin's quarter-final did make it to the stream though, and he…
,
To read the original article from news.google.com, Click here
Private Internet Access gives you unparalleled access to thousands of next-gen servers in over 83 countries and each US state. Your VPN experience will always be fast, smooth, and reliable.