Staff, 2023-03-10 16:14:33,
Drums Rock Review (PSVR2) – Fight the denizens of hell with the power of rock. Does Drums Rock have the sticks to be a fine addition to the rhythm genre? Find out in PlayStation Universe's Drums Rock review for PSVR 2.
Drums Rock Review (PSVR2) – Fight Your Demons In This Rocking Drumming Game
---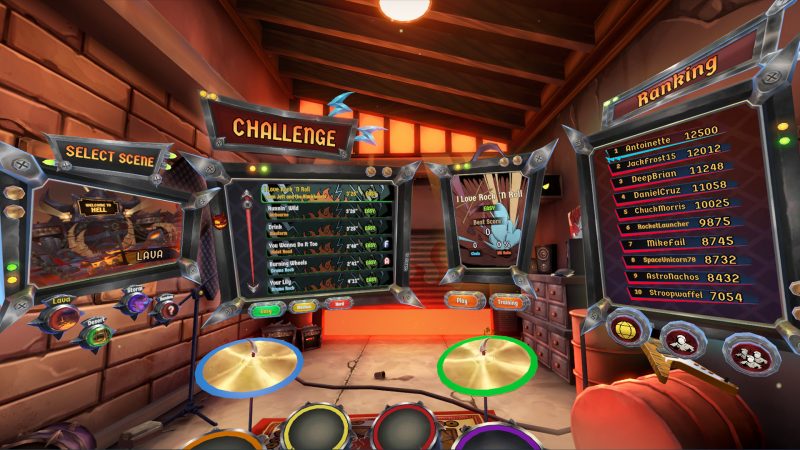 If fellow VR drum game Ragnarock has a rather singular focus, then it can be argued Drums Rock's has too. Just in a different way. While Ragnarock was going for a whole Viking/Celtic rock vibe right down to rowing longboats across icy rivers, Drums Rock is evoking the spirit of early Guitar Hero by way of Metal Hellsinger.
Drums Rock has menus and presentation that feels oddly familiar for anyone who spent the late 2000s with plastic guitar in hand, smashing their way through The Fire and the Flames.
It's colorful, chunky, and has a very 'rawk' thing going on. It actually felt quite pleasant to step back in time like that. The licensed tracks also tend to feel like they'd have been at home in a Harmonix title.
But this is a game about drumming, not guitars. No warbling, no shredding, no slapping of bass, or even a tinkle of the ivories (yes, that was part of Rock Band once upon a time). Just the drums.
As such, it has the same kind of streamlined focus those early Guitar Hero games where the track selection reflects the instrument choice, and puts a bit more care into recreating the act of playing the drums.
Drums Rock tries to put a bit of context into why you're…
,
To read the original article from www.psu.com, Click here
Private Internet Access gives you unparalleled access to thousands of next-gen servers in over 83 countries and each US state. Your VPN experience will always be fast, smooth, and reliable.